Power
It is a rare occurrence that a topical subject results in a new opera, but followers of the Helsingborg Symphony Orchestra in Southern Sweden have hardly been surprised by this development. The management's desire for media friendly experimentation has resulted in headlines in recent years by, among other things, setting music to an anonymous homophobic hate letter, and insisting on a no-flight policy, which requires externally hired conductors and soloists to arrive by means of transport other than airplane. But when the mini-opera The Power and the Glory, which centers on the recent crisis in the Swedish Academy, attracted the attention of Swedish public television1 close to half a year before its March 19 premiere, several issues warranted reflection. What we were presented with on the television was a full rehearsal, with the choir, soloists, and orchestra all assembled, which in regular opera productions rarely happens until shortly before the premiere.
The conversation around the Swedish Academy, and its surrounding abuses of power, are obviously of interest to viewers. But in that spirit, one could also ask whose idea the opera was, how is it that this particular production attracted a camera crew from Sweden's public broadcaster, and who wrote the music? As it turns out, all roads lead back to the concert hall's own manager, Fredrik Österling, who also happens to be the composer of the work in question. The libretto is by the debutant Hanna Höglund, a cultural journalist active in Swedish public radio. Although obvious conflicts of interest arise when a composer doubles as the director of a symphony orchestra, this composer has scarcely exercised restraint in programming his own music.
"The silence is very important"
The irony here is plain to see: how many members of the orchestra would dare to object when their boss's music is promoted in this manner? Within larger cultural institutions, it is customary to avoid questionable power structures of this kind. The heads of the Centre Pompidou wouldn't dare to use the museum's good name to exhibit their own art. Even ignoring the conflicts of interest, it is obviously a complicated task to occupy that many roles within the same organisation.
When a concert entitled Pride included Österling's music, self-irony was used as a tool: the promotional video jokingly speculates whether it is a matter of pride for a concert hall's director to programme his own music2.. The answer is clear, since it's certainly not a coincidence that the composer's works are played regularly in Helsingborg but hardly at all by other Swedish orchestras.
"Your assembly of aging aspirations is now in for as much as it can take"
The imminent death of classical music is, ironically, a myth that seems to have eternal life. In recent years, it has often been argued that it must connect with the times and reach out to new groups of listeners to avoid this tragic fate.
Examining Österling's activities more closely one immediately notices a strong desire to stir the pot and to create change in accordance with this recipe, and it deserves to be said that some of these innovative ideas have been enlivening. In Helsingborg there has been no lack of daring repertoire choices in recent years, and building a concert season in an unusual conceptual manner can indeed result in exciting musical journeys.
However, a more dubious line of reasoning appeared when Österling's cantata The Fag Train (Bögtåget) was premiered by the orchestra. While being interviewed by the BBC, Österling explained that "it's our task [as artists] to be there in the middle of current discussions, current topics and debate – that's the only way I think we can make classical music relevant again."3
A number of questions spring to mind: at what point did classical music become irrelevant? Is contemporary music less relevant if it lacks a connection to current political themes? With this perspective in mind, how should we relate to the music lover who goes to concerts for other reasons than to ponder contemporary political themes through music?
From a cultural-historical perspective, art with contemporary political content has had varying levels of impact, depending on genre and epoch. In 1871, the Danish critic Georg Brandes formulated the idea that literature "should address problems and set them up for debate", and this maxim did pave the way for numerous important literary works. But if there is any art form that offers resistance to the thesis that all art is political, classical music probably would be the most likely candidate. Though there are exceptions, it would be hard to claim that most of instrumental music, if it's free from suggestive titles with political undertones, is played with any particular agenda in mind. Musical vibration patterns alone scarcely convey any specific political positions, and concert house visits rarely lead to revolutions or societal changes.
Equality
"I am now shattering your club of old men to pieces"
Gender equality has become an increasingly prevalent issue in Swedish art music since 2006 when the Government inquiry "Professional orchestral activities in Sweden", commissioned by the Ministry of Culture, was published.4 The investigator was given directives "to take […] gender and equality perspectives into account", and Fredrik Österling acted as the secretary for the inquiry. The lack of gender balance in the selection of composers performed by orchestras was highlighted, in contrast with the ratio among orchestral musicians, which was noted as being significantly closer to 50/50.
Actively supporting historically neglected groups, above and beyond merely dismantling the barriers that have previously restricted them, can be constructive, indeed, even necessary. However, it often turns into a crude and simplistic way of relating to a complicated historical dialectic. The politicisation of the gender equality issue has also created a lucrative niche within the art music world, where those who can point to injustices and offer solutions can expect abundant rewards.
It is easy to sympathise with the issue when confronted with the statistics compiled by composer Karin Rehnqvist in 2008, which became the impetus for KVAST (The Swedish Association of Women Composers). That season, only slightly over one percent of the works played by Swedish orchestras were composed by women – among works written after 1950 the figure was 6 percent. At the same time, there is a cruel reality behind these numbers: historically, women rarely got the opportunity to study composition, and the few who did compose wrote for orchestra only in exceptional cases. For example, Amy Beach was the first American female composer to write a symphony, a work that was finished in 1894. It is therefore no wonder that KVAST's comprehensive repertoire bank – which contains thousands of works by women composers – mentions only a few dozen orchestral works written before the late 19th century5. The historical injustice against female composers thus extends beyond mere lack of visibility. In recent years, some who have undeservedly been neglected have started to receive more performances, but the fact remains that the historical repertoire is tragically limited.6
With this in mind, it might be logical to ponder a bit more what gender equality really means in our music tradition, and how we should relate to the past. But instead, it is often the white, male and heteronormative music history that is treated with increasing suspicion, not least by problematising commonly-used definitions such as "canon" and "quality". In Sweden, there is currently an even gender distribution among first performances of living Swedish composers' orchestral works7 – this despite the fact that the actual distribution among members of the Association of Swedish Composers is roughly 80% men to 20% women. Thus, since KVAST was formed, the situation has not only changed significantly – rather, one should speak of a notable over-correction that has resulted in 20% of the composers receiving 50% of the commissions. Put differently, you are four times more likely to be commissioned an orchestral work in Sweden if you are a woman.
Some are clearly more equal than others. "The penis counter will help Swedish media become the best in the world" proclaimed a headline by the Swedish public broadcaster SVT a while back, referring to a digital tool that keeps track of male, female, Nordic and foreign-sounding names. With the help of KVAST, this nowadays also applies to Swedish art music.
"We should only include gentlemen who can write, who know something and have taste"
The relativisation of older art that does not fit in with the values of our times has become a recurring issue in public discourse. We are told by Stina Westerberg, the former director general of the public Swedish Performing Arts Agency, that the work on equality in orchestral programming "will take a long time, because the orchestras play so much traditional symphonic repertoire"8. This line of thinking can be traced to governmental regulatory letters that mandate the promotion of "equal [male vs. female composers'] repertoire among Swedish orchestras that are granted state support", which has resulted in several million SEK becoming earmarked for the purpose to the Swedish Performing Arts Agency, The Swedish Arts Council, and The Swedish Arts Grants Committee. The latter commissioned the report "Artistic Quality with Democratic Perspectives" from gender researcher Eva Mark, stating that it was the committee's mission "with the help of political steering to influence the conditions for artistic creation".9 Some argue that art is not politically controlled in Sweden, which is surprising when this is precisely what is said openly in reports like this one.
Common to both authorities and several interest groups is the assumption that the selection criteria of the orchestras is unjustly favourable to one gender. KVAST makes this clear on its website: "The word 'quality' [is] a door that the art-music man has hidden behind for the last hundred years. The concept of quality is based on a patriarchal idea of the male genius and implies a hierarchical structure that has been defined by men throughout centuries."10 Fredrik Österling, too, adheres to this idea by explaining that "a quota has already been made, albeit in the other direction – that is what today's canon is. We are trying to balance out a quota that has been in place for many hundreds of years."11
This line of reasoning seems to neglect the fact that there are significantly more male than female composers that have been forgotten as a result of the canonisation of the repertoire and the invocation of "quality". That only a few women were given the opportunity to educate themselves as composers is a historical injustice that cannot be corrected retroactively, and our efforts to transcend patriarchal structures are not helped by pretending that they never existed. After all, it is not possible to change Rome's design so that the city contains as many buildings by female and male architects. There are other ways to be in dialogue with history than to level a city to the ground and then re-design it to fit the equality ideals of our times.
No matter how self-serving and crass this faux egalitarianism is, it sets itself up as something beyond reproach. Any criticism can be shot down by claiming it is an expression of privilege or sexism. The symphony orchestras have been described as "the last stronghold of patriarchal culture"12, and classical music is allegedly required to "make amends with its history of oppression"13. This type of weaponisation of identity politics is not only cynical but dangerous: it trivialises the very real plight of sexism and other forms of prejudice in our society, making it increasingly harder to detect and combat genuine bigotry.
Politicisation
"I am here as your biggest grant recipient"
The politically savvy cultural worker will draw conclusions that favour their own positions when given the opportunity. In the report ""Professional orchestral activities in Sweden", for which Österling worked as the secretary, one reads that the inquiry "assesses that there should be more room for new chamber opera in Sweden, and thus broaden the diversity in the area". An active chamber opera composer thus notes that a genre he himself enjoys focusing upon should be given more support. It is not difficult to draw parallels with the author Carl Love Almqvist, who published anonymous reviews and writings in praise of his own books. As noted by Johan Svedjedal, these texts were written "not infrequently with such obvious Almqvistian phrases that most people understood who had held the pen".14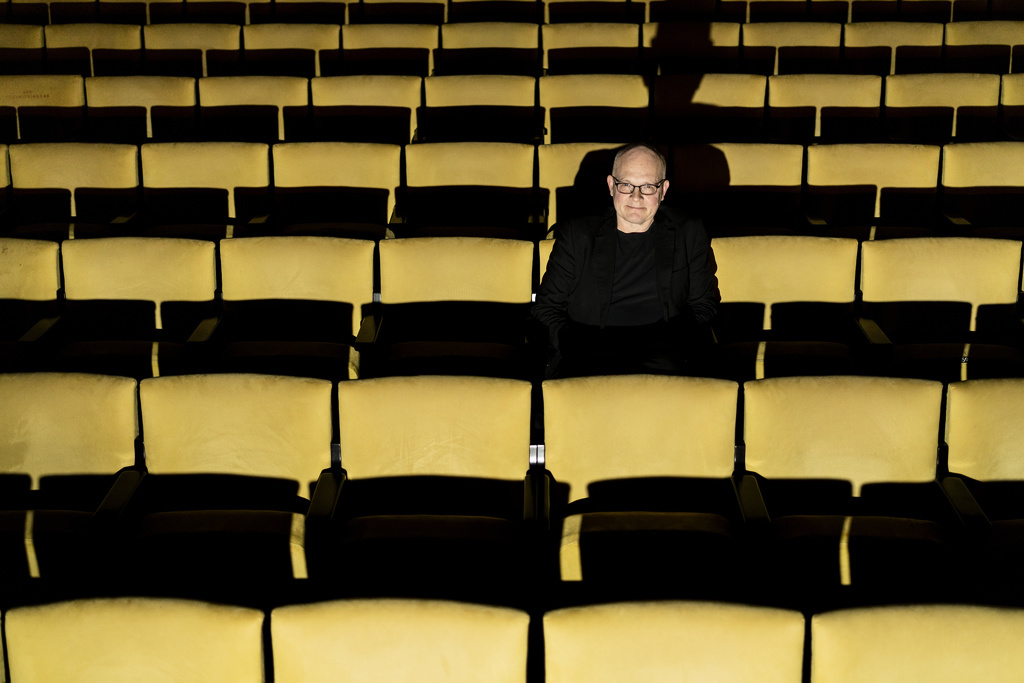 After the mentioned inquiry was published, Österling received a chamber opera commission – with a libretto on the subject of cultural politics.
"I have always been a women's friend"
The wish for gender-equal repertoire expressed in the inquiry was fulfilled by Österling in 2010 when, in the role of CEO of The Swedish Wind Ensemble, he launched the initiative "Skip the Full Beard". Apart from programming his own music, Österling invited the audience to attend a concert season where the distribution between male and female composers was even – an initiative that was awarded by KVAST. But the fact is that since then, the Wind Ensemble has never repeated the concept nor even come close to such a distribution – and the Helsingborg Symphony Orchestra has had, under Österling's leadership, only 4% female composers on the 18/19 concert season, counted in minutes played15. In the three most recent seasons, the portion was on average 12%. Why continue to take pride in a decade-old concept if it turned out to be a one-off?
In the cultural climate of our times, one sometimes gets the impression that contemporary and older art are in conflict with one another – the former has relevance, the latter is passé. In the report "The Royal Opera as National Stage", based on Österling's writings, an explanation is given as to why Sweden, unlike other countries, does not cherish its national cultural heritage: "Sweden has invested more in contemporary Swedish works than in older Swedish repertoire which can be considered difficult to stage because of its often old-fashioned and difficult-to-understand stories."16
If some opera is rejected because of its "old-fashioned and difficult-to-understand stories", one might wonder how much of the traditional opera repertoire remains.
Without denying the importance of the times we live in, it is surely very restrictive to fixate on current trends when measuring the value of art. Penetrating the depths of human nature and investigating basic human problems is what makes art relevant, regardless of whether it originates from Ancient Greece or our times.
The enthusiastic reception of Malmö Opera's staging of Wilhelm Stenhammar's Tirfing, the positive reviews from the German modern premiere of Kurt Atterberg's Aladdin, and the Gothenburg Opera's success with Gösta Nystroem's Herr Arne's Hoard are all indications that the report presents a far too black-and-white image of relatively older Swedish opera, and does it in quite derogatory terms. Opera Journal's editor-in-chief Sören Tranberg's reaction to the investigation is clear: "Of course the institution at Gustav Adolf's square has an obligation to play older Swedish opera works. This is even required in its mission statement, and doing otherwise would be pure malpractice."17 However, this malpractice turns out to be the reality, with historical Swedish opera and ballet conspicuous by their complete absence for several decades at the Royal Opera.
Thus, instead of classics of Swedish opera, the way was paved for The Power and the Glory in Helsingborg. The music could be described as a pastiche with characteristics of a musical, featuring a rap by the Swedish Academy's former secretary Horace Engdahl, and material lifted from a Baroque composer. The text of the aria "Taste the Steel of My Pen" included the Wikipedia definition of the word "pussy-bow blouse" and had a chorus that musically recalled old Soviet propaganda. In the librettist Hanna Höglund's attempt to "understand why things collapsed" at the Swedish Academy, the Academy's former secretary Sara Danius is portrayed singing lines such as:
Among my good qualities
Is my keen sense of right and wrong
I possess bad qualities
But my morals are pure and strong
Sara Danius passed away in late 2019 after several years of illness. One can only wonder whether Danius and those close to her gave their blessings to this opera, and the way in which she was portrayed. How she, at the end of the opera, reflects on her past life on the deathbed and asks: "Did I make a mistake, wasn't I good?" Color me skeptical.
The glory
"I'm a great genius – doesn't matter how I behave"
The premiere of The Power and the Glory took place during the ongoing corona pandemic, long after Sweden enacted a ban on events with over 500 participants, prompting most major cultural institutions to quickly shut down public activities.
Before the premiere, the decision was made to omit the other four works and instead give two performances of what was described as "the main piece of the evening". The original program had included Schoenberg's Verklärte nacht, one of the absolute masterpieces of late Romanticism – apparently just a parenthetical next to the concert manager's own music.
In an eerily empty concert hall, the opera was performed on March 19 and was also streamed online. Among those who reviewed it was Dagens Nyheter's Per Svensson, who generally never writes about classical music. He noted that it would be an "act of wrong-doing" to review an opera he had experienced only through his laptop, but then went on to do so anyway.
One could sense the ghost of Georg Brandes when Sydsvenskan's cultural editor-in-chief Ida Ölmedal wrote that the live streaming was an example of how to "discuss society and human life based on new artistic works."
Several reviews noted that Österling had "commissioned himself", to which he retorted in a Facebook post that he is "[…] employed for the sum of my roles. Manager. Composer. And […] no extra compensation is paid for my composing, either!"
It is unclear when exactly he nominated himself the unpaid house composer for the Helsingborg Symphony Orchestra – a position that does not exist at any other concert hall in the world.
But before taking office, Österling remarked that his activities as a composer would not lead him to "in any way annex the orchestra to [his] own benefit"18, and the employment contract does not mention that the management role includes composing. Considering that the performances took place in a near-empty hall, with large parts of the orchestra consisting of substitutes owing to the pandemic, it is safe to say that employing the concert manager as a volunteer composer didn't come free of cost.
"The silence is very important" is sung at the end of the opera. Precisely. And I would note that among the hundred-plus who 'liked' the concert manager's Facebook post, the sixty-plus musicians of the Helsingborg Symphony Orchestra are conspicuously absent.
* * *
The unexpected irony of this story has to do with the chameleon-like nature of corruption. One of the clearest metaphors for its dialectal nature is found in the Russian playwright Evgeny Schwartz's play The Dragon, in which we meet the knight Lancelot, who slays the fire-breathing monster that has ruled his city for over 400 years. However, the hierarchical power remains intact, as the mayor of the city soon takes the place of the dragon, whereupon Lancelot realises that the real task is to "kill the dragon within each one of us".
In this play, we have a telling parallel to recurring political tendencies: the fight against oppression does not always lead to true justice, but instead creates new types of similarly problematical power structures. But that's not all. For when the winds of change blow over cultural policy directives, they also open doors for various actors to take advantage of these trends for their own benefit. In such a situation, is there much room left for independent creation, or the preservation of the cultural heritage that has been painstakingly bequeathed by previous generations? Much would be gained if cultural politics abandoned these destructive forms of political governance in this newly-begun decade.
(The quotations in the text are taken from the libretto of The Power and the Glory)
Martin Malmgren, pianist
Co-editors of the English translation:
Ilari Kaila
Franklin Cox
Jonathan Powell
Se noter
Visa mindre
Noter
https://www.svt.se/nyheter/lokalt/helsingborg/svenska-akademins-kris-blir-opera
https://www.facebook.com/watch/?v=1594287540632728
https://www.bbc.co.uk/sounds/play/p06cyq5d
https://www.regeringen.se/rattsliga-dokument/statens-offentliga-utredningar/2006/04/sou-200634/
https://kvast.org/repertoarbank/
The subject is addressed in Richard Taruskin's The Oxford History of Westen Music, Vol. 2 – "Women in Music: A Historians' Dilemma", pp. 78-83. Charles Rosen also summarises this in the book "The Romantic Generation": "There is no attempt here to revive those few women composers whose work remained almost completely repressed during this time. To do so would be, I think, a distortion of the real tragedy of the creative female musician in the nineteenth century. It is misleading to emphasise the claim that there were women composers whose considerable achievements were pushed aside and went unrecognized; the fate of the greater talents – Clara Schumann, for example – was even more cruel: they were never, in fact, allowed to develop to the point where they could have taken a justified pride in work that was unheard of, invisible – even that was denied them. They were harshly excluded from history, and trying to bring them uncritically and naively back into it neither does they posthumous justice nor acknowledges the difficult reality of their lives."
https://www.hbl.fi/artikel/historiskt-genombrott-i-sverige-uruppfordes-forra-sasongen-fler-verk-av-kvinnor-an-av-man/
https://youtu.be/zizYkizr0kY?t=8700
https://www.konstnarsnamnden.se/default.aspx?id=19113
https://kvast.org/guldkvasten-2015-till-festival-med-hog-karat/
https://youtu.be/H53kMX5yqjU?t=21222
https://www.hbl.fi/artikel/symfoniorkestrarna-ar-den-patriarkala-kulturens-sista-faste/
https://www.hs.fi/mielipide/art-2000006278022.html
Johan Svedjedal: "Frihetens rena sak. Carl Jonas Love Almqvists författarliv 1841-1866" Sthlm 2008.
https://kvast.org/verksamhet/kunskap-och-metoder/statistik/
https://docplayer.se/12890615-Kungliga-operan-som-nationalscen.html
http://tidskrift.nu/artikel.php?Id=7502
https://www.sydsvenskan.se/2015-11-30/tonsattare-tar-over-som-chef-for-helsingborgs-symfoniorkester
Martin Malmgren är konsertpianist och kulturskribent bosatt i Helsingfors.